LES FEMMES PARLENT in 2009, twenty years after the fall of the wall in berlin (November 9, 1989). Symbolic event for Central and Oriental Europe. 20 years that have witnessed the ascension of women to political power and their access to positions that enable them to impact society and impose their "diktat" against violence. 20 years of territorial transformation that have shaken and modified cultures and identities. This is why we have selected artists whose works are the most representative of this period and answer the following question that Elisabeth Lebovici is asking: 
"20 years after the Fall of the Wall, what have been your Hopes and Despair, and which transformations have impacted our itinerary as a woman and as an artist?" 
Places: gandy gallery (exhibition)
Goethe Institut, Bratislava (conference and exhibition)
TANJA OSTOJIC
Born in Yugoslavia in 1972
she lives and works in Berlin 
Untitled /After Courbet, 46 x 55 cm, 2004 
Besides the composition and the reference to the title (L'origine du monde – The Origin of the World, oil on canvas, 1866, 46 x 55 cm, by Gustav Courbet), my reference to Courbet was referring directly to his position as an artist who was concerned with the class struggle during the time of the Paris Commune and who believed in the emancipatory role of art in society. His artworks have been banned from shows, and he was arrested as well, primarily because of political engagement. The painting L'origine du monde remained hidden for more then 120 years in private collections, but has been on display at the Museé d'Orsay in Paris since the 1980s.
After Courbet was displayed on several rotating billboards in the end of December 2005, in public space, on streets in Vienna as part of the exhibition EuroPart. Following a large media scandal, after only two days the work was removed as an act of censorship, at the moment when the Austrian Prime Minister was about to take over the Presidency of the EU. The work was removed from public space along with another artwork done by a Spanish artist. Both works displayed as part of the exhibition were attacked publicly as being supposedly offensive to Austrian public morality. Over one hundred articles and over one thousand readers' comments witnessed the events in an interesting and complex way. The poster, 3.5 x 4 metres, was re-mounted on the façade of Forum Stadtpark in Graz between January–March 2006.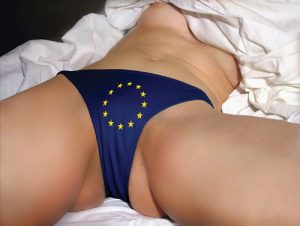 PAVLINA FICHTA CIERNA
Born in Slovaquia in 1967 
she leaves and works in Zilina (SK)
Author's works have obvious feminine art approach and are related to her own identity. She confronts, more or less, concrete human story and some real results of the recent social statistics in Slovakia, or is inspired by everyday reality of living which is influenced by distinct promotion in the media of certain actions and events.tc "Author's works have obvious feminine art approach and are related to her own identity. She confronts, more or less, concrete human story and some real results of the recent social statistics in Slovakia, or is inspired by everyday reality of living which is influenced by distinct promotion in the media of certain actions and events."
Women talk or Kitchen view, 2006 
video, sound, color, 14'
edition 5 + 2ap
Video shows author visiting her friend's house. Chosen sequences from their dialogue are evidence of a "kitchen" talk between two middle-aged women-mothers. In their conversation the personal experiencing is blending together with their perception of global problems. At the same time the video is a kind of "different" comment on the project Bird's eye-view. According to the public opinion poll in Slovakia1 every third person considers words "bird flue" to be the most typical word or phrase characterizing past year, whereas in overall appraisal this phrase was used especially by women.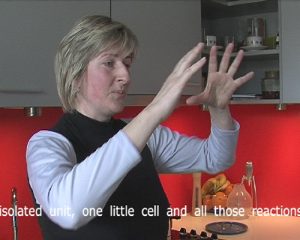 DANICA DAKIC
Born in 1962 in Sarajevo
Lives and works in Düsseldorf and Sarajevo
Danica Dakic's work investigates the interfaces of cultural and personal, and political and geographical identity. Using a variety of media (photography, film, video and sound installations), she interrogates the construction of identity and "home" that results from the impacts of social change, globalisation, and war, on the basis of her own experience of emigration. A recurring element is her insistence on the decisive importance of language, the spoken word, in the formation of identity.
La Grande Galerie (3), 2004 
c-print on alumimiun,60
60 x 75 cm
edition 8 
For her photo series La Grande Galerie (2004), taken as part of the project, Danica Dakic engaged Roma from the refugee camp in Plementina to pose in front of a large-scale reproduction of the painting Imaginary View of the Grande Galerie in the Louvre as a Ruin by Hubert Robert (1733ñ1808). Yet the way in which these Roma stand there and gaze at the observer reveals their dignity. Thus in a further sense this work is not only a critique of the politics of exclusion but also an expression of the fragility of human existence.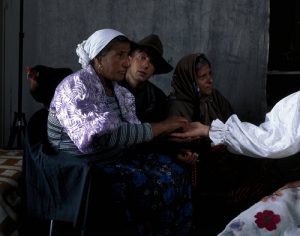 MILICA TOMIC
Born in 1960 in Beograd
lives and works in Belgrade
"One day, instead of a night, a machine-gun fire will burst through the night, if light cannot come otherwise", 2009
edition 5
c-print, 60 x 60 cm
photo: Stasha Tomic 
My intention in this action is to proceed to the position of a rebel, assuming an active position, with a machinegun in hand, carrying it simply, naturally and necessarily, as if it were a supermarket carrier bag or an umbrella. In a sense, this is an act of "taking your destiny into your own hands"…Milica Tomic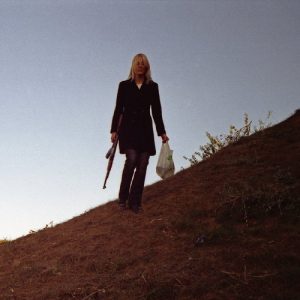 ILONA NEMETH
Born in 1963 in Dunajskà Streda, SK 
8 MEN, 2009
Camera and assistance: Csaba Czibula
Subtitle: Anna Antal. Special thanks to Tímea Monozlai
15'23", edition 3
The video "8 MEN" shows the peculiar story of a branch of my family. We tried to reconstruct the last 25 tragic years of this family from the viewpoint of our protagonist, Tímea. The location of the video is a village in the southern part of Slovakia, Ekecs, where my father stems from. The story of this particular part of my family gained my attention through the annual meetings with Tímea and family on All Saint's Day (November 1) at the local cemetery, where the graves of my grandparents and great-grandparents are also located. According to the local customs, on this day people visit the cemetery and decorate the graves of their passed-away relatives in their memory. Almost every year, I found there was a new grave for Tímea to care about and a new and staggering story she told me. Over the years, I have gradually come to the conclusion to elaborate in some form on this story that has become a part of my life. I find in interesting in many way, how one can tackle the hardships he/she meets, how can one live in the shadow of tragic events, and what can one draw upon to be able to survive everyday life with dignity in spite of the circumstances.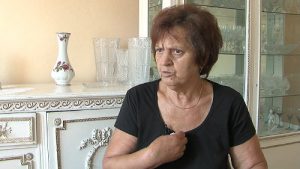 MICHELE SYLVANDER
Born in France, lives and works in Marseille
"La Fautive", 1995
edition 5
Whether gender is a linguistic indication of political opposition between sexes, Michèle Sylvander realized at once that masculine is not masculine, but common. In her open shirt "the culprit" seems far away. No wrongdoing.  No feeling of guilt. The title "la fautive" is a trick. A kind of geometry without space. Liliane Giraudon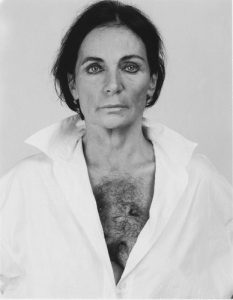 ÉVA KÖVES
Born in 1965 in Moscow, lives and work in Budapest
Branches
oil on canvas 90 x 300 cm
In this case, "Work" refers to the way we work with nature. In some countries or cultures it is unusual to portray this heavy effort, In other places, depicting the hard rural work has a long tradition. The painting of Éva Köves shows a vigorous structure of branches, tangles and knots, the energy, which appears is tremendous, the material is full of resistance, the branches, however, are still whirling, they are in motion. 
What one sees is the organic architectural structure of the rural countryside in Russia – still the reason and the source for this strengh and energy are unknown. The French contemporary philosopher Gilles Deluze writes that the source of each production is desire. Sometimes, it is desire to produce some abstract object. At some places of the world this production through desire looks light and bright, at some others it involves heavy effort and fight.
The Russian countryside belongs rather to the second one. 
The works by Éva Köves do always aim at monumentality. Her first paintings, which I saw at the Academy of Fine Arts in Budapest, covered all the walls of a spacious room. Then she was widening and opening the space by colorful constructivist dynamism. This monumental strength appears again as she depicts rural life of the Russian countryside, its production and fertility in a very unique way.

ROZA EL-HASSAN
Born in Budapest, Hungarian and Syrian origin
Adaptation 3, 2008-2009
82 x 250 cm
Woman with scarf, redline, circles and dreams
There's plenty of space and time: 
Plenty of space on the huge drawing between the lines, there's plenty of space and time in the woman's dreams and memories. The viewer arrives in the age, when there's no need to hurry anymore. 
There's no need to decide if the woman is dreaming her future or looking back to her memories. The lines and movements are immediate, close to life. 
The soul is on respectful distance: her eyes are closed.
"R. thinking/dreaming about overpopulation, 2009 
Róza El-Hassan visiting installation work by Alicia Framis" 
Edition 5,7' 
Concept/performance: Roza El-Hassan 
Video/filmmaker: Salam Haddad 
Music: Guy J 
Installationwork: Alicia Framis 
The performance was inspired by absurdities born of accusations of a collective guilt. In this case, it focuses on the bewilderment caused by the manner in which the media, on the evening of September 11, 2001, provoked a sense of mass guilt that was targeted at all people of Arab and Moslem descent. On the subjective level, the performance makes playful use of a question: How and with what image of the Arab will I now identify myself? 
The Blood Donation Performance was staged in three cities, beginning in Belgrade (2001 Octobre), continuing in Budapest (2002 Septembre), and  in Zurich ( 2002-2003). 
Moving from the Balkan States toward the West, the local reception that I received was, in each case, totally different.   I collected the video documentation and the letters, comments, articles, personel diary-like sketches   in a folder. 
2009 April: I am invited to give blood together with other artists in the installation work of Alicia Framis,which is a blood-sushi bank  shown at Palace of Art Budapest. As a silent protest against the bombing of Gaza I repeat my action and ask filmmaker Salam Haddad to make a film about it.  
Since the series of performances  is at the same time an autobiographic work showing a female artist, a woman of arab origins in europe who tries to find her place in society and  I propose the work for "Les Femmes Parlent"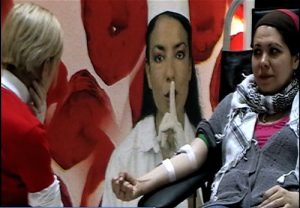 ORSHI DROZDIK
Born in 1946 in Hungary, lives and works in Budapest and New York. 
Lipstick Paintings A' La Fontana 2000/06 
TAGLI 2006. size of each 50 x 50 cm 
Series of four lipstick paintings on canvas.In this painting series, titled Lipstick Paintings A la Fontana, the punctured holes are wounds on the stretched canvases. Rubbed red lipstick covers the abrasion of the paintings-body. The holes on the skin of the paintings, marks the force of penetration. 
On Lucio Fontana monochrome paintings series titled Spatial Concept (concetto spatiale) the punctures, force of the gesture towards the viewer, in a way that is at once energetic and threatening. In his buchi (holes) cycle he punctured the surface of his canvases, breaking the membrane of two-dimensionality in order to highlight the space behind the picture. At the same time the slashed canvases (tagly) are cuts into the space of the paintings; they could be also the wound or the virgina itself. The wounds, slashes and punctures of the surface, open into the third dimension of the paintings. 
In my psychoanalytic and deconstructive interpretation, the punctured holes penetrating the painting-body. The painting itself turns into a female body, on which lipstick covers the injury. The spatial concept opens into the locus of representation of women.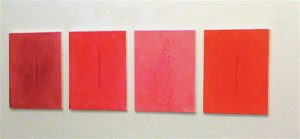 LIA PERJOVSCHI
Born in 1961 in Sibiu, Romania. Lives and works in Bucarest. 
Mind Map Subject (detail), 1999-2006 
100 x 137 cm 
deconstructing the subject (culture, family, education, context, time, space…) from the perspective of the recent theories
DENISA LEHOCKA
Born 1971 in Trencin. Lives and works in Bratislava (SK) 
Untitled, 2009