---

Nursing Modern Fall, 2012, HD video installation, 5.1 sound, 3' loop
In Nursing Modern Fall, Eviner transforms the fractured space into a working stage on which several historical encounters are continuously performed. On this stage as the Pratt&Whitney Aircraft Engine Factory (built by Albert Kahn & Associates in 1941) fuse with interior drawings of Andrea Palladio, a particular zone in the space is transformed into an underground tunnel sheltering imaginary creatures-probably refugees. These uncanny encounters are applied to numerous examples; a space -creating, reproducing and negating itself- is construed on this stage through paradigmatic shifts. In this setting nurses strive for healing this modern destruction in an absurd way.
Nursing Modern Fall is realized through a multilayered research, drawing and video compositing process; Eviner translates the language of architectural plan drawing into her personal visual language with the help of tracing paper. She transfers this complex language of drawing into a three-dimensional space using 3D modeling technologies and creates a new life in this setting. The figures in this setting struggle a great deal to dwell in this whimsical environment. These hurried figures running hither and yon precisely reveal the tension between human and citizen Giorgio Agamben mentions.
This environment created by intersecting different point of views in order the architectural design process to render the unexpected possible, forces modernism to throw out its losses and repressions. This fractured, eclectic and floating space and this parallax reality created through horizontal, vertical and cross operations with an obscure vantage point accommodate a critical capacity revealing these antagonisms, lost their edges in contemporary global optimism, into a possibility of being visible.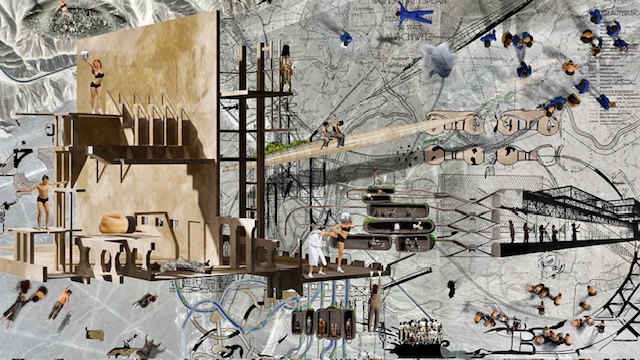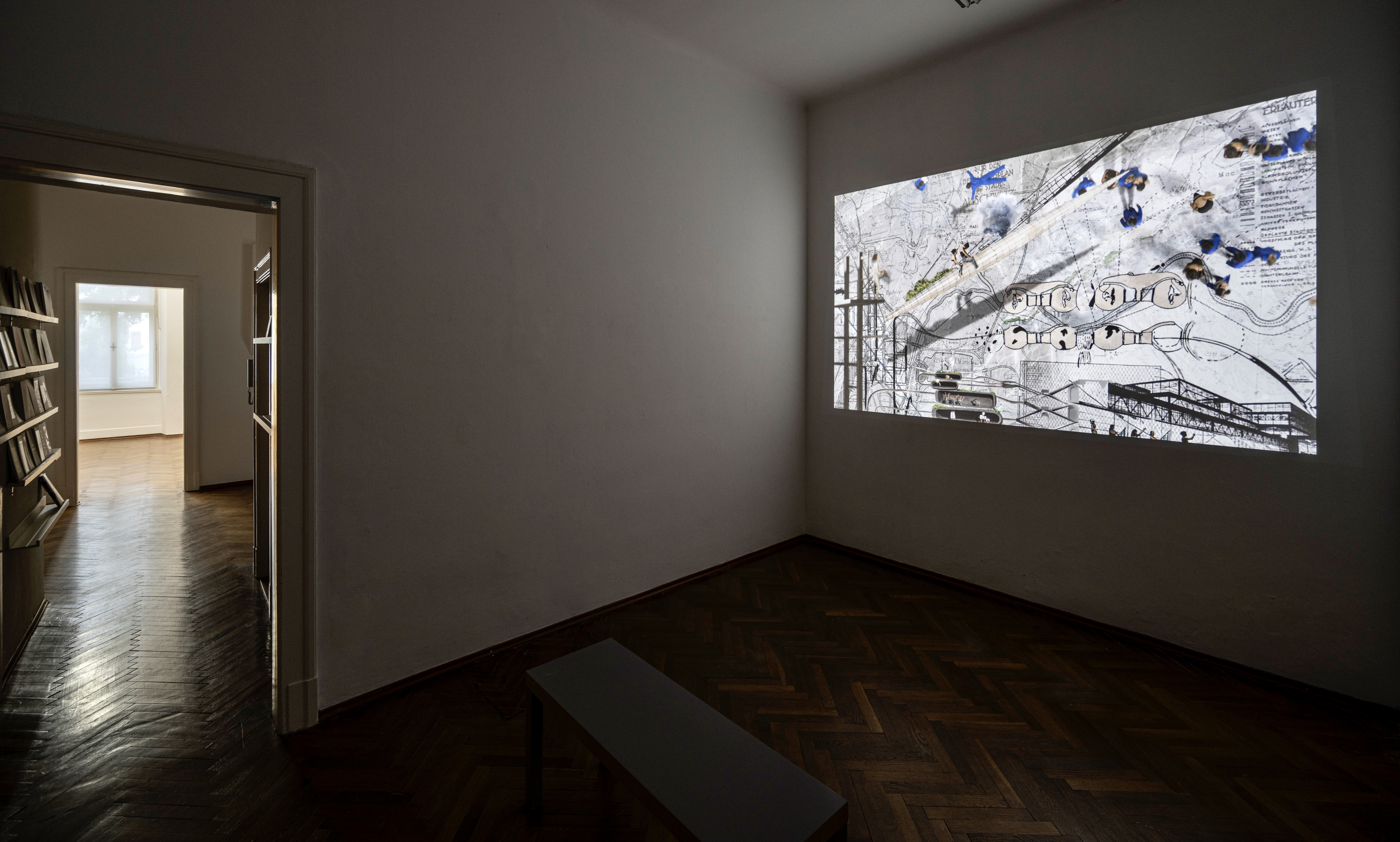 ---
Fluxes of Girls on Europe, 2010, Stereo HD ,3', loop
For Girls in Europe, Eviner utilizes the European map as space for the work: "…I am investigating how space shapes our lives with its memory and structure. As an extension of the body, space interests me. I am trying to discover how power operates on our bodies and changes them. Therefore, I prefer moving images and pursue this question; could this state become a new opportunity for resistance? By destroying the codes of already existing spaces, I am providing a space for 'existence'. I am not creating an abstracted space or image. I am working with given spaces because those spaces are living spaces shaped by a certain school of thought. You see, that rational thought is standing against what I consider irrational and subconscious!"
In Girls in Europe, the European continent is invaded by girls from North Africa, unknown corners of the world and Anatolia, who ridicule borders, challenge and demand living spaces. As in Harem, in this fiction, Eviner takes up the comeback of the suppressed and the freedom of expression she allows to each girl, sometimes as the expression of violence and sometimes of joy. The viewers who spend some time with these moving pictures produced with the video technique can join the narrative by establishing their own form of perception and discover the new forms of energies among the gestures. The fact that there is no linear or hierarchic narrative forces us to join this energy.
This unexpected meeting of video and painting adds a new dimension to pictorial narrative.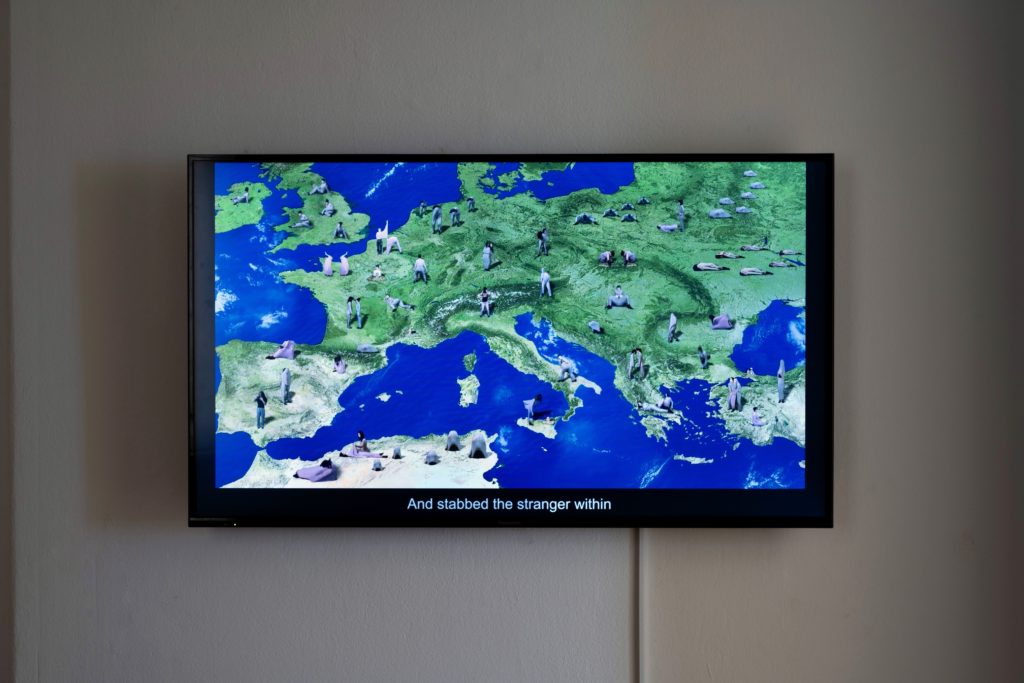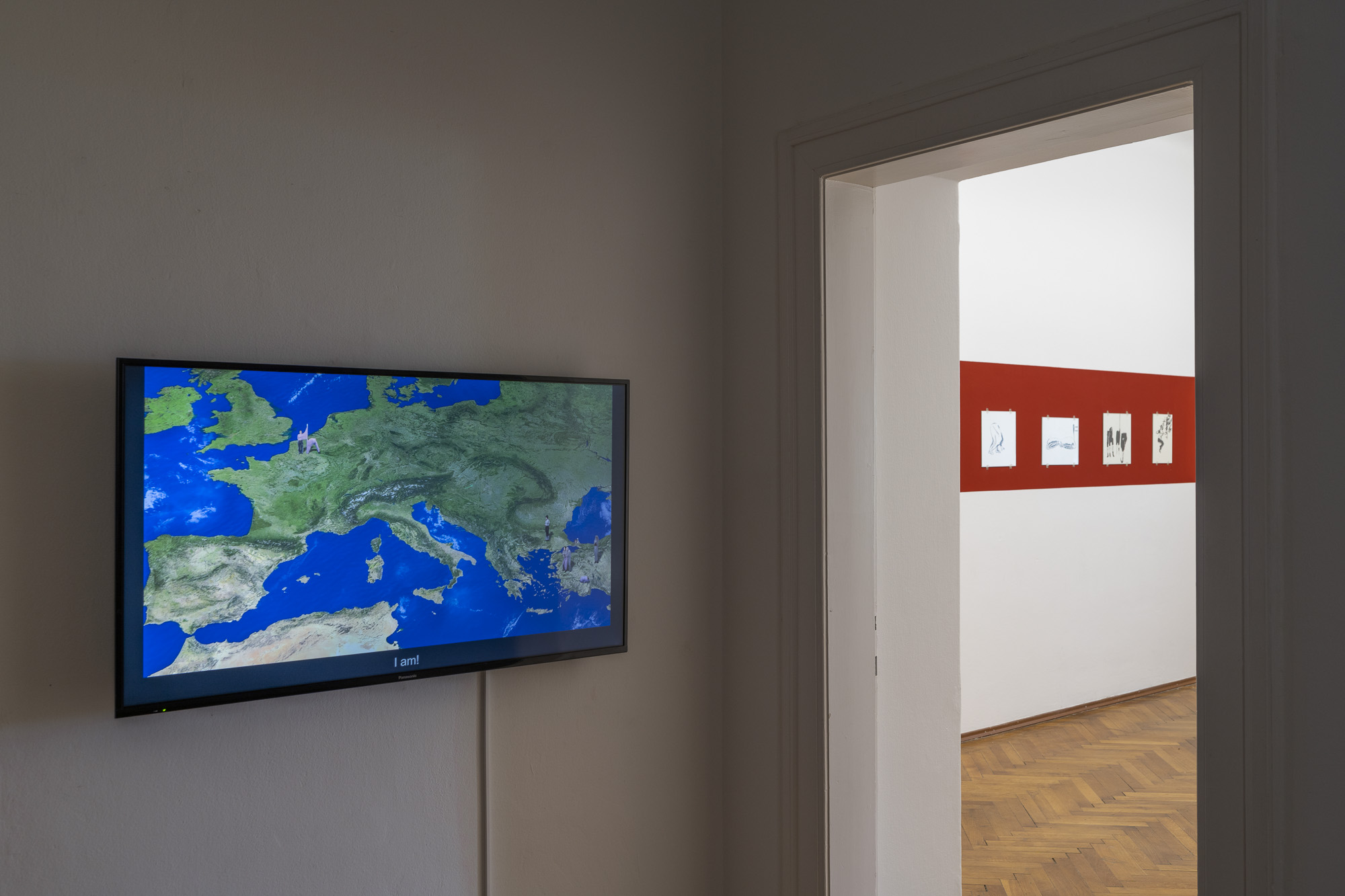 ---
Inci Eviner was born in Ankara. After graduating from the Painting Department of the National Academy of Fine Arts, Eviner pursued a PhD in the Fine Arts Faculty of Mimar Sinan University, receiving her degree in 1992. After presenting her video work "Harem"  in 2009, she gained a high international interest and her works started to be included in important collections worldwide. Eviner received prizes from the Sharjah Art Biennial in 2017 (13 Prize); she was also invited to artist residencies such as Rauschenberg Foundation in Florida, Headlands Center for the Arts in California and ISPC in New York USA; SAM Art Projects in Paris and MAC/VAL Musée d'Art Contemporain du Val-de-Marne in France; Rockefeller Foundation Bellagio in Como, Italy throughout her career.
One of Eviner's most important exhibitions were Venice Biennial Turkish Pavillion (2019) and the other is her retrospective "Who's Inside You?" at Istanbul Modern Museum, Turkey (2016). She also displayed her works in important solo exhibitions such as ''Houris and Travelers'' at Dirimart, Turkey (2022); "Beneath the Horizon" at Galeri Nev Istanbul (2017); "Runaway Girls" at The Drawing Center New York, USA (2015); "Broken Manifestos" at Musée d'Art Moderne de la Ville de Paris, France (2011); "Harem" at Art in the Auditorium in Whitechapel Gallery London, UK (2009). Eviner also attended a number of biennials worldwide including the Liverpool Biennial (2018), Gwangju Biennial (2018) and 13th Istanbul Biennial (2013). She was included in many international group exhibitions such as "Hand Drawn, Action Packed" at Hayward Gallery / Southbank Centre touring exhibition in the UK;  "Punk Orientalism" at MacKenzie Art Gallery, Albert St. Regina- Canada; "Under Pressure- On Forms of Authority and Decision- Making Power" in MuseumsQuartier Wien, Austria, and  "Dystopia: Marking the 200th Anniversary of Karl Marx's Birth" at Municipal Museum of Jena, Germany.
Eviner was selected to represent Turkey at the 58th International Biennale di Venezia in May 2019 and her presentation took place at a dedicated location at the Arsenale. The artist's works are included in globally important institutional collections such as Deutsche Bank Collection, Center Pompidou in Paris, Istanbul Modern Museum, Guggenheim and TBA21 Wien. Eviner was also a lecturer at Kadir Has University, Faculty of Art and Design. She lives and works in Istanbul, Turkey.